Instructional (Learning) Design
This site discusses seven theories for designing learning environments, known as Learning Design or Instructional Design:
It also includes:
What is Instructional Design?
Instructional Design is defined as "a systematic process that is employed to develop education and training programs in a consistent and reliable fashion" (Reiser & Dempsey, 2007). In addition, Instructional Design models or theories may be thought of as frameworks for developing modules or lessons that 1) increase and/or enhance the possibility of learning and 2) encourage the engagement of learners so that they learn faster and gain deeper levels of understanding.
Instructional Design (ID) models differ from Instructional System Design (ISD) models in that ISD models have a broad scope and typically divide the instruction design process into five phases (van Merriënboer, 1997, pp 2-3):
Analysis
Design
Development
Implementation or Delivery
Evaluation
In addition, ISD models uses formative evaluations in all the phases and a summative evaluation at the end of the process.
ID models are less broad in nature and mostly focus on analysis and design, thus they normally go into much more detail, especially in the design portion. ID models are normally employed in conjunction with ISD models. The ISD process keeps the entire training, development, or educational process on the correct path or objective, while one or more ID models are used that best supports the learning process being designed. This allows ISD to be similar to plug-and-play, in which you plug the needed ID model into the ISD model: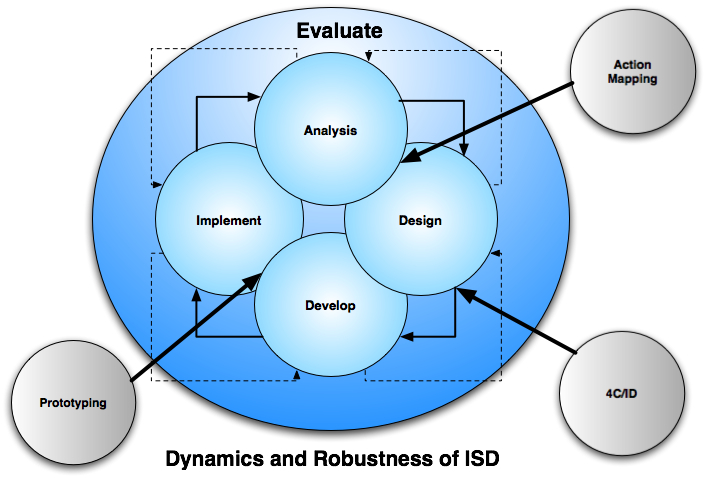 There are three types of strategies within Instruction Design theories (Reigeluth, 1983):
Learning Design
Recently, there has been some movement to call Instructional Design "Learning Design," with the premise that this will focus the process more on the learners rather than the content. However, this has been criticized by others as we cannot design learning because it is an outcome, rather we can only design the instruction, which is a process.
Next Steps
References
Gagné, R. (1985). The Conditions of Learning and the Theory of Instruction, (4th ed.), New York: Holt, Rinehart, and Winston.
Keller, J. M., & Suzuki, K. (1988). Use of the ARCS motivation model in courseware design. In D. H. Jonassen (ED.) Instructional designs for microcomputer courseware. Hillsdale, NJ: Lawrence Erlbaum.
Merrill, M. D. (1983). Component Display Theory. In C. M. Reigeluth (ed), Instructional Design Theories and Models: An Overview of their Current States. Hillsdale, NJ: Lawrence Erlbaum.
Reigeluth, C. M. and Stein, F. S. (1983). The Elaboration Theory of Instruction. In C. M. Reigeluth (ed), Instructional Design Theories and Models: An Overview of their Current States. Hillsdale, NJ: Lawrence Erlbaum.
Reiser, R. A. & Dempsey, J. V. (2007). Trends and Issues in Instructional Design (2nd ed.). Upper Saddle River, NJ: Pearson Education, Inc.
van Merriënboer, J. J. G. (1997). Training Complex Cognitive Skills: A Four-Component Instructional Design Model for Technical Training. Englewood Cliffs, New Jersey: Educational Technology Publications.